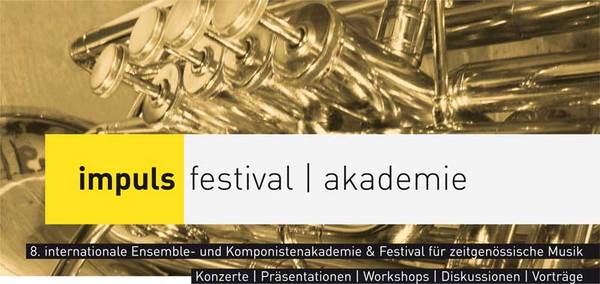 impuls Festival 2013
Between February 9th and 20th, 2013 the impuls Festival took take place in various locations in Graz.
Concerts with Klangforum Wien and the Curious Chamber Players, internationally renowned musicians as well as various formations of young musicians from all over the world, premieres of - amongst others - impuls composition commissions, works of modern, new and contemporary music and also works including Live-Electronics, impuls MinuteConcerts in galleries and other art-institutions, discussions, roundtables, lectures, composers´talks, workshops and other music communication programmes …: impuls does not only offer intense days with contemporary music to its international participants at the Academy, but also to a growing audience with open ears – in theory and practise, through words and sound, discourse and direct experience.
For further informations about our daily programmes please choose a date at the top of the page.
impuls Festival 2013 Summary
impuls Festival 2013 Leporello
impuls Festival 2013 Poster
impuls Festival 2013 English Program
impuls 2013 Summary