impuls . International Composition Competition
Composers for 2015
Thanks again to all composers, who have handed in their works, materials and concepts for the impuls Composition Competition back in 2012, which was an invited competition for international composers for the first time. They were nominated by 33 international representatives (composers, curators, journalists etc.), who were asked by impuls to name 3 composers each. At a final meeting in April 2013 a jury consisting both of composers and musicians (Pierluigi Billone, Markus Deuter, Lorelei Dowling, Clemens Gadenstätter) selected five composers out of about 60 applications eventually sent in from three continents:

Wojtek Blecharz (*1981, Poland)
Ashley Fure (*1982, USA)
Marco Momi (*1978, Italy)
Brigitta Muntendorf (*1982, Germany)
Davor Branimir Vincze (*1983, Croatia)
These composers took part in the impuls Composition Workshop in Vienna and Graz with Klangforum Wien coming along with commissions to write new pieces for ensemble to be premiered on February 13th, 2015 in Graz during the impuls Festival 2015.
Unfortunately Brigitta Muntendorf had to withdraw from the impuls composition commission in December 2014 and cancelled her participation in the workshop and concert with the Klangforum Wien. Therefore composer Raffaele Grimaldi who was also nominated through the impuls Composition Competition, was invited to join the program and to present his already existing composition Holon.
Download Program Wojtek Blecharz
Download Program Ashley Fure
Download Program Raffaele Grimaldi
Download Program Marco Momi
Download Program Davor Branimir Vincze
Foto by Kamil Zacharski
Wojtek Blecharz
Wojtek Blecharz (Voytek Blehash, b. 1981) has composed various pieces for orchestra, chamber, solo, choir, electro-acoustic as well as music for dance theater performances. His music was performed on various festivals and concert series in Poland, USA, Germany, Ireland, France, Belarus, Holland, Czech Republic, England. A graduate of Frederic Chopin Academy of music in Warsaw (M.A. composition) Blecharz is currently pursuing a PhD in composition at University of California San Diego, where he studied with Philippe Manoury, Roger Reynolds, Chinary Ung, Miller Puckette and others. In 2007 he won the main "Tadeusz Baird Award" for young Polish composers; in 2005 and 2007 he was granted a Ministry of Culture and National Heritage stipend for young artists, in July 2007 he took part in Stockhausen-Courses for composers in Kürten (Germany), and in 2012 he participated in Summer Courses of New Music in Darmstadt, where he was awarded a Stipend-Prize for "outstanding achievements in the field of composition". Current works include an opera installation Transcryptum commissioned by Grand Theater-National Opera in Warsaw and a new piece for Forbidden City Chamber Orchestra from Beijing. Blecharz is also a curator of the festival Instalakcje at Nowy Theater in Warsaw.
For information on the new composition commissioned by impuls click here.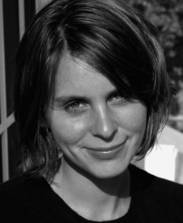 Ashley Fure
Ashley Fure (b. 1982) is an American composer of acoustic and electroacoustic concert music as well as multimedia installation art. Her work explores the kinetic source of sound, bringing focus to the muscular act of music making and the chaotic behaviors of raw acoustic matter. She holds a PhD in Music Composition from Harvard University where she worked with Chaya Czernowin and further degrees from IRCAM (Cursus 1 and 2), Oberlin Conservatory, and the Interlochen Arts Academy. Currently a Mellon Post-doctoral Fellow at Columbia University, Fure will join the Dartmouth College Department of Music as an Assistant Professor of Sonic Arts in September 2015. Winner of the 2014 Kranichsteiner Music Prize at Darmstadt, Fure also received the 2014 Busoni Prize from the Akademie der Künste in Berlin, a 2013 Fulbright Fellowship to France, a 2013 Impuls International Composition Prize, a 2012 Darmstadt Stipendienpreis, a 2012 Staubach Honorarium, a 2011 Jezek Prize, and a 2011 10-month residency at Akademie Schloss Solitude. Notable recent projects include Ply, a 55-minute electroacoustic ballet commissioned by IRCAM for the 2014 Manifeste Festival in Paris; Albatross, for large ensemble and electronics, commissioned by the San Francisco Contemporary Music Players for the 2014 Sweet Thunder Festival in San Francisco; and Something to Hunt, a septet commissioned for Dal Niente for the 2014 Internationalen Ferienkursen für Neue Musik in Darmstadt. Her multimedia installation Tripwire (2011), created at IRCAM with visual artist Jean-Michel Albert, has toured through multiple international festivals including The Holland Festival (Amsterdam), Bozar (Brussels), Seconde Nature (Aix-en-Provence), Elektra (Montreal), Nemo (Paris), Stereoluxe (Nantes), and L'Ososphère (Strasbourg).
For information on the new composition commissioned by impuls click here.
Foto by Guido Suardi
Marco Momi
Marco Momi (*1978) studied piano, orchestral conducting and composition in Perugia, Strasbourg, The Hague, Rome, Darmstadt and Paris; in composition he has mainly studied with Fabio Cifariello Ciardi and Ivan Fedele. From 2007 to 2010 he studied and worked at IRCAM in Paris.
His works have been awarded in several international competitions such as Gaudeamus Music Prize, Seoul International Competition, Reading Panel IRCAM-EIC. In 2008 he received the Kranichsteiner Music Prize from the city of Darmstadt and for three times he has been candidated to compete for the "Prix Prince Pierre de Monaco". Marco has been composer in recidence at the Akademie der Künste Berlin and in Turin at the Fondazione Banna Spinola; in 2013 he is in residence in the season of the Divertimento Ensemble in Milan. His music has been performed by Ensemble Intercontemporain, Neue Vocalsolisten Stuttgart, Accroche Note, Ensemble Modern Akademie, Ensemble Nikel, ASKO, Nieuw Ensemble, Itinéraire, Slagwerkgroep Den Haag, Taller Sonoro, Alter Ego, MDI, Algoritmo, Divertimento Ensemble, Marco Angius, Bas Wiegers, Marino Formenti, Robert HP Platz, Andrea Pestalozza and others, in festivals such as Musica Strasbourg, Ars Musica Bruxelles, Agora Paris, ManiFeste Paris, Warsaw Autumn, Culturscapes Basel, Music Today Seoul, IMD Darmstadt, Akademie der Künste Berlin, Gaida Vilnius, Venice Biennale, Bang on a Can New York, AudioArtCircus Osaka, Magister Ludi Moscow, IRCAM season, Tzlill Meudcan Tel Aviv, Gaudeamus Music Week, ZKM Karlsruhe.
He received commissions from Institutions such as the French State, Radio France, Ernst von Siemens Foundation and ADK Berlin.
His music is published by Nuova Stradivarius and since 2009 by Suvini Zerboni Editions, he recorded two monographic CD for the label Stradivarius coming out in 2013-2014. He is among the founders of the blog www.nuthing.eu focused on diffusion and promotion of contemporary music. Since 2007 he teaches in Italian Conservatoires.
For information on the new composition commissioned by impuls click here.
Foto by Tomislav Veić
Davor Branimir Vincze
As an artist I am fascinated by modern media and the way it changes human perception of its surroundings. The overload of useless information one can find while surfing the internet is being tranformed into clots of notes, which together form a sort of musical lace. Semantically I often treat topics concerning hidden feelings, cravings and all those things one would like to do, say, make, but does not dare, and thus tend to use related texts. From a technical point of view, I get inspired by natural phenomena, which then become algorithmic models for finding new acoustic solutions in my sound explorations.
Taking part in renowned festivals and residency programs for composers like Royaumont, Impuls, Mata, Steirischer Herbst, Culturescapes, etc., I was able to exchange and discuss my ideas with P. Ablinger, B. Ferneyhough, M. André, H. Parra and others. My pieces have been performed by professional ensembles for new music (Ensemble Intercontemporain, Klangforum Wien, Ensemble Modern, Talea, Ensemble Recherche) and the acceptance of my work also led to several scholarships (Boulanger, Frankopan, Erasmus, etc.), which allowed me to finance my studies.
Studying composition at music academies in Graz and Stuttgart as well as at Ircam in Paris, gave me the opportunity to learn from great composers such as C. Gadenstätter, S. Gervasoni, G. Kühr, M. Lanza, M. Stroppa and J. C. Walter. In 2014, together with my team, I started NOVALIS - contemporary music and arts festival in Croatia.
For information on the new composition commissioned by impuls click here
Photo by Guido Suardi
Raffaele Grimaldi
Composer, pianist and conductor, born 1980.
He graduated in Piano with Carmen Romano and Composition with Lucia Ronchetti at the Conservatory of music "G. Martucci" in Salerno with highest honors, and graduated with the highest honors, at the Master's courses (high improvement in Composition) of Ivan Fedele at the National Santa Cecilia Academy in Rome. He has obtained some prizes in National and International Competitions, among others.
He has followed the masterclass of Salvatore Sciarrino, Brian Ferneyhough, Georges Aperghis, Michael Jarrell, Marco Stroppa, Hugues Doufourt, Yan Maresz, Bruno Mantovani.
His compositions have been performed in Europe (Italy, France, The Netherland, Spain, England, Albany, Switzerland, Austria, Germany, Sweden, Greece), USA (New York, Boston, Des Moines), Japan (Tokyo), Russia (Moscow), Australia (Melbourne) and broadcasted by NRN-FM Japanese National Radio, Ö1 - Radio Österreich 1, Sveriges Radio P2, Radio-Canada, Taukay Radio, VPRO RADIO, Concertzender Radio, RADIO 4 eigentijds (Holland) Radio Rai International and Rai Radio 3 (Italy), and performed by Tokyo Philarmonic Orchestra, Orchestre Nationale de Lorraine, Orchestra del Conservatorio "G. Martucci" di Salerno, chamber ensembles like the Ensemble Recherche, Neue Vocal Solisten of Stuttgart, Ensemble Nouvel Ensemble Moderne, Studio for new music Moscow, VocaalLAB Amsterdam, Ensemble Algoritmo, Prometeo string quartet, Ictus&Nadar Ensemble, Amsterdam Collage Ensemble, Ensemble Transmission, FontanaMix Ensemble, Aleph ensemble, Monesis ensemble, Interensemble, soloists like Mario Caroli, Valentina Coladonato, Simone Beneventi, Ann Cravero, Matteo Cesari, Francesco Filidei, Erik Carlson, Franz Josef Hauser and directed by prestigious conductors like Zsolt Nagy, Tetsuji Honna, Marco Angius, Jacques Mercier, Flavio Emilio Scogna, Frank Wörner, Philippe Nahon. He has developed musicology activity at the "San Carlo" theatre of Naples, obtaining a scholarship for his studies. He has been selected by the Reading Panel 2008- IRCAM (Paris - France) for the Cursus 1 in Composition and Computer Music 2008/2009, and obtaining the artistic residence at the Citè Internationale des Arts.
Raffaele Grimaldi has been composer in residence with the Aleph Ensemble - L'Arbresle (France) in 2008, N.E.M. Nouvel Ensemble Moderne - Montreal (Canada) in 2010, Schloss Solitude Akademie in Stuttgart (Germany) in 2010/2011, Fondazione Spinola-Banna per l'arte in Torino (Italy) in 2011 and received commission from prestigious festivals like the San Carlo theater of Naples, Acanthes Festival, Ass. Nuova Consonanza, Festival Valle d'Itria, Fondazione Spinola-Banna, Xenia Ensemble & Studio for new Music Moscow, Hameln 2012 Jubileum, Rudolf Eberle Foundation, Biennale di Venezia.
In his professional activity he has held lectures and workshops about his music at some important institutions like the University of Montreal, University of Turin, the Schloss Solitude Akademie of Stuttgart, the Tschaikovsky conservatory of Moscow, the conservatory of Utrecht.
Since 2009 he has collaborated with the writer, philosopher and poet Diego Giordano, with who has produced various musical theater works.
His works are published by Raitrade (Rome - Italy) and Suvini-Zerboni (Milan - Italy).
Besides he cultivates the painting, poetry and the philosophy with particular interest.
Since September 2014 Raffaele Grimaldi is Fellow Composer at the French Academy in Rome - Villa Medici.
He is co-founder of the blog www.nuthing.eu where he writes about contemporay music.
© www.raffaelegrimaldi.com
For information on the composition performed on February 13th please click here.