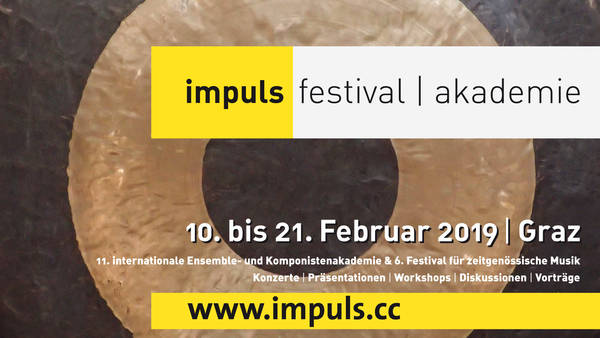 impuls Festival 2019
Already for the 6th time the impuls Festival will bring contemporary music to various, quite diverse stages and venues also apart from traditional concert settings in Graz. From February 10th to 21st formats such as Music Salons in the informal atmosphere of kunst.wirt.schaft, Late Nights at Forum Stadtpark, MinuteConcerts in Galleries, presentations of partly intermedial special projects at places such as Museum der Wahrnehmung and esc, concerts in the marvellous ambient of the baroque Minoritensaal and at Kunstuniversität Graz, amongst others, await you, and so do large ensemble projects at MUMUTH and Helmut List Halle.
With almost 200 works, all composed in the 20th and 21st century, as well as several improvisations, internationally renowned top interpreters and various formations of young musicians will give an intense inside view in the richness and diversity of contemporary music – amongst them: Klangforum Wien, Ensemble Nikel, Ensemble Schallfeld, zone expérimentale basel, IEMA-Ensemble and many more musicians and composers, who, coming from more than 50 nations, gather in Graz for impuls for 14 days.
Lectures, discussions, composers´ talks and many more music communication programs hereby enhance the impuls Festival program and the Academy alike. This way new music, be it classical modern or most contemporary one, can be experienced first hand both in theory and practice, discourse and sound.
For further information about our daily programmes please choose a date ...
impuls Festival 2019 Summary
impuls Festival 2019 Poster
impuls Festival 2019 Leporello
impuls Festival 2019 English Program