impuls . Internationaler Kompositionswettbewerb
Komponisten für 2017
impuls dankt allen Komponierenden, die beim 2014 offen ausgeschriebenen internationalen impuls Kompositionswettbewerb mitgemacht haben. Im Februar 2015 wurden folgende Teilnehmer aus mehr als 150 Einreichungen, die uns aus zahlreichen Ländern und vier Kontinenten erreichten, von der aus Komponisten und Musikern zusammengesetzten Jury (Clemens Gadenstätter, Klaus Lang, Florian Müller, Sophie Schafleitner) ausgewählt:

Adam McCartney (*1987, Ireland)
Carolyn Chen (*1983, USA)
Michalis Paraskakis (*1980, Greece)
Diana Soh (*1984, Singapore)
Lorenzo Troiani (*1989, Italy)
Diese Komponisten wurden zum impuls Composition Workshop mit dem Klangforum Wien nach Wien und Graz eingeladen und erhielten von impuls Aufträge für neue Ensemblestücke, die sodann am 10.2.2017 in Graz am Eröffnungstag des impuls Festivals ihre Uraufführung erlebten.
Download Programm Adam McCartney
Download Programm Carolyn Chen
Download Programm Michalis Paraskakis
Download Programm Diana Soh
Download Programm Lorenzo Troiani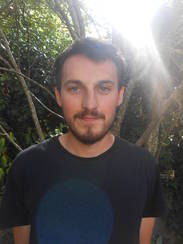 Adam McCartney
I was born in Limerick, Ireland in 1987 before that I do not really know.
Music has always delighted me and the thought of doing anything else was never seriously entertained.
Good teachers introduced me to nothing in varying degrees, John Godfrey, Klaus Lang and Bernhard Lang are some of these people.
Since 2010 I have been living in Graz.
Read more about the music of Adam McCartney here.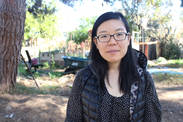 Carolyn Chen
Carolyn Chen has made music for supermarket, demolition district, and the dark. Her work reconfigures the everyday to take apart habits of our ears using sound, text, light, image, and movement. Recent projects include Sky doesn't fall, an evening-length quintet intertwining accounts of a Chinese origin myth and the big bang commissioned by Emory Planetarium for Chamber Cartel in 2015, and Relationships with Gravity, an assemblage of anecdotes about falling and interviews with physicists with footage from falling cameras commissioned for the 2014 MATA Festival. The New York Times described Wilder Shores of Love, a chamber orchestra piece commissioned for a 2011 Zankel Hall premiere by S.E.M. and Ostravska Banda, as "evening's most consistently alluring piece … a quiet but lush meditation." The work has been supported by the Fulbright Foundation, Paul and Daisy Soros Fellowships for New Americans, MATA, American Composers Forum, ASCAP, Stanford University, University of California Institute for Research in the Arts, Emory Planetarium, Wellesley Composers Conference, and Machine Project at the Hammer Museum, presented in Bulgaria, the Czech Republic, Israel, Norway, Iceland, Sweden, Denmark, the Netherlands, the U.K., Germany, Switzerland, China, Australia, Mexico, Canada, and the U.S. Chen has been fortunate to work with ensembles such as Pamplemousse, Surplus, Talea, Chamber Cartel, Die Ordnung Der Dinge, Dal Niente, Ensemble This Ensemble That, Asamisamasa, NorthArc, Now Hear, Kallisti, Ostravska Banda, S.E.M., Prague Modern, Gliss, thingNY, Red Light, New York Miniaturist Ensemble, red fish blue fish, Silent Book, orkest de ereprijs, and Zwo. She earned a PhD in music from UC San Diego, and an MA in Modern Thought and Literature and BA in music from Stanford University, with an honors thesis on Free Improvisation and Radical Politics.
Read more about the music of Carolyn Chen here.
Photo by Afroditi Festa
Michalis Paraskakis
Michalis Paraskakis initially studied graphic design and visual arts, while playing the piano and the accordion. Later, music became his main focus – he studied composition in the Royal Conservatory of The Hague - though visual arts left traces on his compositions. He meticulously defines every aspect of his works, from the score to the final staging. He loves playing with the expectations and limits of the listener, and he is particularly interested in the sonic and performance 'flaws/errors' and how they can be used to discover unexplored areas.
He has worked with musicians such as the ASKO|Schönberg Ensemble, Nieuw Ensemble, Momenta Quartet, Slagwerk Den Haag, Klang Ensemble, Ensemble Modelo62, Bas Wiegers, Carl Cristian Bettendorf and has taken part in festivals such as the MATA Festival New York, Evening of Today Amsterdam, Les Soirées Dessinées Paris. In 2013 he collaborated with the Nederland Dans Theatre and in 2014 he was invited to perform and coach Jani Christou's music in the Week of Contemporary Music in Ghent. In 2017 he is taking part in impuls Festival in Graz with Klangforum Wien.
Read more about the music of Michalis Paraskakis here.
Photo by IRCAM
Diana Soh
Diana Soh (b. 1984) is a Singaporean composer whose musical interest is currently directed at exploring performance interactivity. Her music tends to be characterized by interruptive oppositions between surface activities and passivity with a recent passion for the manipulation of live electronics.
Her music has been performed in venues and in festivals as varied as Takefu International Festival (JP), LSO St. Luke's (UK), Royaumont (FR), Acanthes (FR), June in Buffalo (US), Unerhörte Musik series (DE), Gaudeamus (NL), Manifeste (FR), Klang (DK), Muziekgebouw (NL), Lincoln Center (US) as well as in Singapore. Her music has also been broadcasted on the BBC Radio 3 and France Musique and most recently on the Deutschlandradio as part of the Forum Neuer Musik 2015.
She has had the good fortune of working with musicians such as the late James Avery, Magnus Andersson, NEO Norbotten, Tony Arnold, New York New Music Ensemble, the Arditti Quartet, Peter Eötvös, the Cikada Ensemble, Athelas Sinfonietta, TIMF Ensemble, Ensemble Court Circuit among many others.
In 2013, she received her Doctorate from the University at Buffalo under the tutelage of David Felder and has spent the last 2 years at IRCAM for the Cursus 1 and 2 (2011-2013). She currently resides in Paris where she was also the composer-in-residence (2012-2013) at the Conservatoire d'Ivry Sur Seine in partnership with La Muse en Circuit, the National Center for Creation. The end of her residency in 2013 was marked with her first portrait concert as part of the Festival Extension, with the kind sponsorship of l'ARIAM and l'ADIAM94.
She is currently working on new commissions and projects with the impuls Festival, IRCAM, Ensemble Multilatérale, Aporia Survival Kit, Promenade Sauvage and Ryoko Aoki that take from Paris to Switzerland, Austria, Belgium, Italy and Japan.
Read more about the music of Diana Soh here.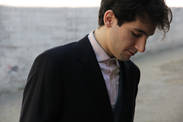 Lorenzo Troiani
Lorenzo Troiani was born in Rome, Italy, in 1989.
He studies composition with Rosario Mirigliano, Salvatore Sciarrino and Clemens Gadenstätter.
Taking part in renowned festivals, academy and programs for composers like Voix nouvelles Fondation Royaumont, impuls, Accademia Chigiana etc., he has the possibility to exchange and discuss his ideas with musicians and composers such as: B.Furrer, P.Billone, M.Andre, J.Schöllhorn, P.Manoury, B.Ferneyhough, P.Ablinger, A.Solbiati, J.Manuel Lopez Lopez, C.Czernowin, I.Mundry, S.Gervasoni, F.Filidei, D.Kourliandski. He is awarded in various competitions (Bucchi prize, Jean Paul verein etc.). His music is performed and premiered by different ensembles such as Neue Vocalsolisten, Quatour Diotima, Quartetto Prometeo, OENM Salzburg, Divertimento ensemble, Curious Chamber Players, Vertixe Sonora ensemble, Ensemble L'Arsenale, IzM ensemble, Barcelona 216, Taller Sonoro ensemble and in different parts of the world: Italy, Germany, Austria, France, Lithuania, Canada, Scotland, England, Ireland, Cyprus, Spain, Slovenia, USA, Brazil, Argentina etc. His work is supported by different scholarships and residency programs (Villa Sträuli, Amis de la Fondation Royaumont etc.)
The poetry of Paul Celan, the works of Paul Klee and Jannis Kounellis, the philosophy of Martin Heidegger and Jacques Derrida have a crucial role in his music.
He graduated in Philosophy with Paolo D'Angelo and Elio Matassi with a thesis on ontological thinking of Paul Klee.
Read more about the music of Lorenzo Troiani here.