Festival
3.8.2023, 16.00-18.00
L'Après-Midi II
KUG, 8010 Graz
16.00 @ Brandhof 21 . Aula, Brandhofgasse 21, 8010 Graz
17.00 @ TiP . Theater im Palais, Leonhardstraße 19, 8010 Graz
16.00 @ Brandhof 21 . Aula, Brandhofgasse 21, 8010 Graz
Émilie Fortin trumpet, movement
Gabo Champagne piano, movement
Duo Schwing ? (2023, world premiere)
Gaston Polle Ansaldi Ecfrasi V (2023, world premiere)
Victor Morató Ribera Étude, for trumpet, piano, movement (2023, world premiere)
Duo Schwing Improvisation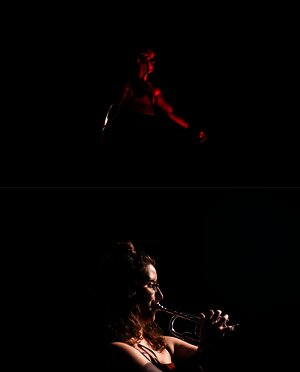 17.00 @ TiP . Theater im Palais, Leonhardstraße 19, 8010 Graz
Maria Muñoz | Cristina Arcos Cano transdisciplinary media
Dakota Wayne Eggs change (2023, world premiere) / Lea Pusch costume designer
VanProject Cīvitās (2023, world premiere)
Gabo Champagne | VanProject Voyagerwege (2023, world premiere)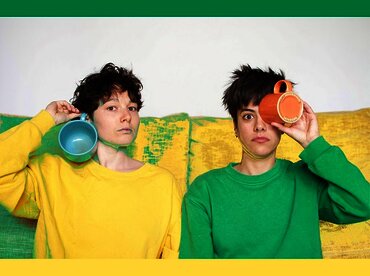 With Duo Schwing and VanProject, two young duos present themselves with both own creations, worked on during the impuls Academy partly under the guidance of François Sarhan, as well as results of Calls, that impuls set up for them, in order to interconnect them with other young professionals, be it composers, sound, multimedia or other creative artists.
The Canadian Duo Schwing loves crossing borders with performance art, theater, musical improvisation and engaging in works that question the usage of the body and physical presence in a setting using sounds and instruments.
VanProject again is a transdisciplinary project established in 2020 and based in Switzerland. Since October 2022 the duo is expanding its education at the Jaques Lecoq physical theater school in Paris. The project is shaped by the search for new forms of expression that evolve into poetic happenings, hereby including sound design, visuals, body and nature. In its beginnings, VanProject worked with contemporary music composers and reinterpreted current works, more currently it evolves towards self-creation with a collective spirit of integration also of the audiences.
€ 13 | € 9* | € 5**
Ticket for the afternoon (16.00-18.00)
* Pupils, students, conscripts/civil servants and unemployed persons with valid identity card
** Music students with valid ID at the box office and children up to 10 years of age
*** Free admission for Hunger auf Kunst & Kultur at the box office from 15 minutes before the start of the concert
Ticket reservation: office@impuls.cc