Festival
30.7.2023, 19.20+20.00+21.20
Decoder Ensemble
Turntables I + II
MUMUTH . György-Ligeti-Saal + Foyer, Lichtenfelsgasse 14, 8010 Graz
19.20-19.40 + after Decoder concert @ MUMUTH . Foyer
Turntables I + Turntables II
Ignaz Schick turntables | Kristupas Gikas turntables
With Ignaz Schick and Kristupas Gikas, two experimental turntablists, being active at this year's impuls Academy also as composers and sound artists, will embrace Decoder's presentation and complement to a program full of inventive works with several short solo/duo pieces for 3 record players.
20.00
Carola Schaal clarinet | Jonathan Shapiro percussion | Andrej Koroliov piano, keyboards | Leopold Hurt (e-)zither | Sonja Lena Schmid cello | Alexander Schubert preparation of sound design | Stefan Troschka (as guest) sound design
Severin Dornier (*1993) flux (2023, world premiere)
Julia Constance Wiger-Nordås (*2001) Torn (2023, world premiere)
Liepa Vozgirdaitė (*2001) cOUnTdOwNs (2023, world premiere)
Leopold Hurt (*1979) selections from: Dissociated Press, for ensemble and playback (2017-2021, Austrian premiere)
DP - Input 3, for percussion
DP - Input 1, for clarinet
DP - Input 2, for cello
DP - Output 2, for clarinet and cello
DP - Substitute 1, for e-zither
DP - Input 4, for piano
DP - Final, for ensemble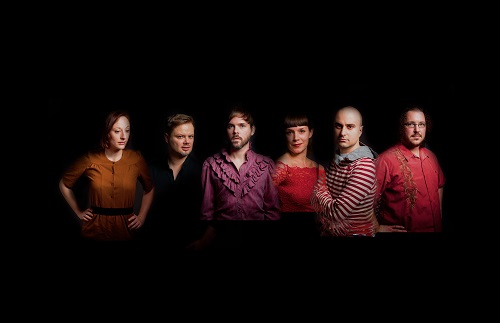 The three works by Dornier, Wiger-Nordås and Vozgirdaitė are the results of a Call for Scores as well as workshops and rehearsals for the participating composers with the Decoder Ensemble at the impuls Academy Graz.
Leopold Hurt's "The Dissociated Press Cycle" began in 2017 as a work-in-progress. The instrumentation of the compositions ranges from solo pieces with electronics to septet – specially conceived for the characteristic line-up of the Decoder Ensemble. "Dissociated Press" – a pun based on "Associated Press" – names an algorithm for the automatic generation of texts on the basis of known language patterns. Derived from this, the cycle combines different approaches to the principle of remix, both on the level of language and music. Each part is paired with electronic audio or video playbacks: a constant interplay between original, copy and fake.
The Decoder Ensemble, founded in 2011 in Hamburg, sees itself as a "band" for contemporary music and is among the most innovative representatives of the international new music scene. The six-member formation, consisting of electronic and acoustic instruments, is characterized by a highly energetic, distinctive sound that stands out from the sound of traditional chamber music.
The six performers / instrumentalists / composers of the ensemble are not only specialists in contemporary music, but also possess a burning curiosity that drives them to constantly explore new forms of expression that transcend genre boundaries. With a seamless fusion of instrumental music, multimedia elements, staging, and physical performance, they create a new and captivating entity of performative art. At the heart of their creative process lies intense collaborations with other groundbreaking artists from a variety of fields.
The Ensemble performs regularly at German and International festivals. Recently Decoder has presented large scale-premieres at renowned venues such as the Festspielhaus Dresden-Hellerau and the Centre Pompidou Paris. Since 2017 Decoder is the Ensemble in Residence of the "Unterdeck" concert series at the Elbphilharmonie Hamburg. Two portrait CDs of Decoder have been released in collaboration with Deutschlandfunk, demonstrating the wide stylistic range of the ensemble's work. From 2022-2024 Decoder is one of the featured Young Ensembles from the ULYSSES Network project.
€ 16 | € 11* | € 6**
* Pupils, students, conscripts/civil servants and unemployed persons with valid identity card
** Music students with valid ID at the box office and children up to 10 years of age
*** Free admission for Hunger auf Kunst & Kultur at the box office from 15 minutes before the start of the concert
Ticket reservation: office@impuls.cc
Turntables I&II: free admission
co-funded by the Creative Europe Programme of the European Union within the Ulysses Network