Festival
2.8.2023, 18.45+19.30
Composers' talk + Laureate Concert
Helmut List Halle, Waagner-Biro-Straße 98a, 8020 Graz
19.30
Wendy Vo Cong Tri flute | Markus Deuter oboe | Anna Koch clarinet | Yulia Drukh clarinet | Lorelei Dowling bassoon | Daniel Dundus saxophone | Anders Nyqvist trumpet | Mikael Rudolfsson trombone | Alex Lipowski percussion | Simone Beneventi percussion | Florian Müller piano | Tina Žerdin harp | Krassimir Sterev accordion | Gunde Jäch-Micko violin | Annette Bik violin | Ulrich Mertin viola | Benedikt Leitner cello | Evan Hulbert double bass
Johannes Kalitzke conductor
Malin Bång blooming brume (2020)
Anna Korsun П О П І Л [p'opil] (2022, impuls commission, world premiere)
Sachie Kobayashi Shifting (2022, impuls commission, world premiere)
Maurizio Azzan Wasteland_beyond (2022, impuls commission, world premiere)
Oren Boneh Go to the Ant (2022, impuls commission, world premiere)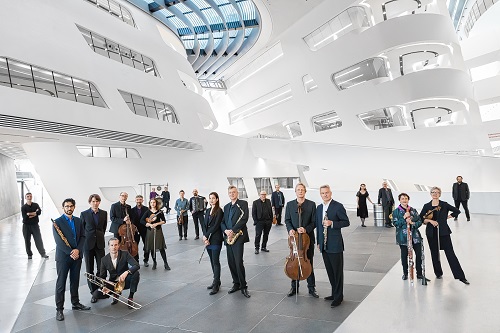 Every second year impuls opens a call for its international Composition Competition, commissions new works for ensemble from the composers selected and invites them to work intensively with Klangforum Wien, one of the world´s leading ensembles, at the impuls Composition Workshop. In this way impuls does not only support young composition participants at the impuls Academies, but also contributes to the careers of young and internationally rising composers.
Tonight another four newly written works by composers from Ukraine, Italy, Japan and Poland/USA/Israel will be premiered at the impuls Festival, and of course the composers will be present for this very special occasion (except for Anna Korsun, who is enjoying a residence on the West Coast of the USA). On top, a quite new piece of Malin Bång, a former winner of the impuls Competition and by now senior lecturer at the Göteborg Academy of Music and Drama, tutor at this year´s impuls Academy and visiting professor at various other international Academies, will add up to the world premieres program.
Aside from some short films on these five composers, that impuls sponsor AVL Cultural Foundation has published in their series "Front Row Seat" and that are shown also in the Foyer tonight, anyone interested to meet the artists also in person and find out more about their works, can do so before tonight´s concert at a half hour Composer´s Talk, moderated by Johannes Kalitzke. A more in depth analysis of the works and discussion with the composers and Johannes Kalitzke is then to follow on August 3rd, 9.30-10.30, at KUG.
On top of that, Klangforum Wien and Johannes Kalitzke will also be present at the impuls Academy and offer a full day with Reading Sessions for composition participants, where, amongst others, questions on formal and esthetic aspects, notation and instrumentation are discussed.
€ 16 | € 11* | € 6**
Combined ticket (18.45 + 19.30)
* Pupils, students, conscripts/civil servants and unemployed persons with valid identity card
** Music students with valid ID at the box office and children up to 10 years of age
*** Free admission for Hunger auf Kunst & Kultur at the box office from 15 minutes before the start of the concert
Ticket reservation: office@impuls.cc
Thanks to AVL Cultural Foundation for the kind support of the composition commissions.
Anna Korsun´s new piece is co-funded by the Creative Europe Programme of the European Union within the Ulysses Network.