Festival
27.7.2023, 19.00
Young Pieces
MUMUTH . György-Ligeti-Saal, Lichtenfelsgasse 14, 8010 Graz
IEMA-Ensemble 2022/23
Phoebe Bognár flute | Jeanne Degos oboe | Drew Gilchrist clarinet | Tobias Krieger trumpet | Michael Martinez trombone | Ying-Chen Chuang percussion | Jaroslav Novosyolov piano | Miria Sailer violin | Miho Kawai viola | Clara Franz cello | Riverton Vilela Alves double bass
Tim Abramczik sound director
Xizi Wang conductor
Zara Ali Isolation Forest (2023, world premiere)
Maria Vincenza Cabizza Deadline: 2028 (2023, world premiere)
Adrian Mocanu Kiovia: esplorazioni delle tenebre (2023, world premiere)
Alex Paxton Scrunchy Touch Sweetly to Fall (kite and finger fun) (2023, world premiere)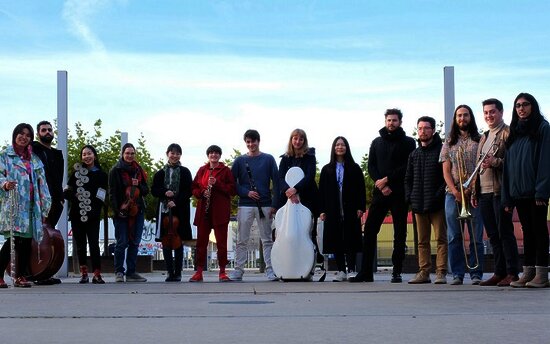 With four world premieres, the IEMA-Ensemble 2022/23 gives its debut concert at the impuls Festival. Being both part of the Ulysses Network, impuls and IEMA hereby welcome new works by Ulysses Journey Composers Maria Vincenza Cabizza and Adrian Mocanu, as well as this year's IEMA in-house composer Zara Ali. Together with the Gaudeamus Muziekweek, impuls and IEMA are looking forward to the premiere of a shared commission from Alex Paxton, that will then see further performances in Utrecht and Frankfurt, hometown of IEMA.
The International Ensemble Modern Academy (IEMA) was founded in 2003 as Ensemble Modern's training centre, in order to convey the numerous artistic movements of our times as well as an open, creative manner of dealing with artistic processes. The education and further education formats developed with various partners have very different target groups. For example for 2022 IEMA, in cooperation with Ensemble Modern and the Aventis Foundation, initiated a new mentoring programme, the International Composer and Conductor Seminars (ICCS). Beyond that, IEMA considers itself a platform for various formats of discourse. Thus, in 2018 it initiated the Meersburg Concert Conversations together with Hans Zender and the City of Meersburg, a format featuring public rehearsals, lectures and concerts, which from 2021 is being complemented by a new master class, the Hans Zender Akademie. In November 2019, IEMA hosted a symposium on developments in the ensemble landscape in current music. In early November 2022, a symposium was held on musical-artistic education in times of changing career fields.
The main focus, however, is on the one-year Master's programme, offered in cooperation with the Frankfurt am Main Academy of Music and the Performing Arts, and supported by Kunststiftung NRW, the GVL, Crespo Foundation and other sponsors, where instrumentalists, conductors, sound directors and composers work with members of Ensemble Modern and renowned composer and conductor personalities on 20th- and 21st-century repertoire. Among others, coaches have been Wolfgang Rihm, Helmut Lachenmann, Mark Andre, Lucia Ronchetti, Rebecca Saunders, Stefan Prins, Sebastian Hilli, Lucas Vis, Stefan Asbury and Jonathan Stockhammer. The results of this work are presented by the IEMA-Ensemble of the current year in more than 20 concerts per year, performed in Germany and abroad.
After its concerts at the cresc... festival and the Witten Days of New Chamber Music, the IEMA-Ensemble 2022/23 performs as well at the impuls Academy in Graz and the Gaudeamus Muziekweek in Utrecht as part of the Ulysses Network. It will also participate in the Lucerne Festival Academy and present eight world premieres by young composers from the Composer Seminar led by Wolfgang Rihm and Dieter Ammann. In cooperation with Ensemble Modern and the Junge Deutsche Philharmonie, Gérard Grisey's cycle "Les espaces acoustiques" will be performed in Cologne and Hamburg under the baton of Ingo Metzmacher. As part of the Ensemble Modern Orchestra, the students will take part in a tour conducted by George Benjamin.