Festival
27.7.2023, 16.00
Improvising On Organ
Basilika Mariatrost, Kirchplatz 8, 8044 Graz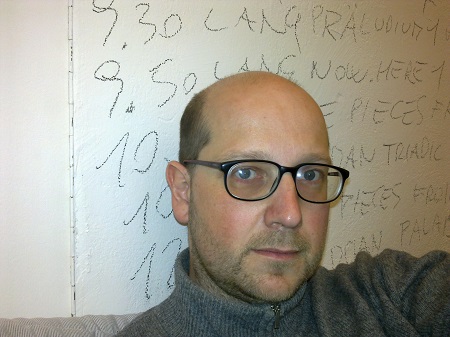 As composer, concert organist and improvisator on the organ, harmonium and similar key instruments, Klaus Lang, tutor at this year´s impuls Academy, invites to a one-hour improvisation organ concert, open also to the public.
Klaus Lang (*1971 Graz / Austria) lives in Steirisch Lassnitz (Austria). He studied composition and theory of music (with H.M. Preßl, B. Furrer and Y. Pagh-Paan) and organ. Klaus Lang loves tea and dislikes lawnmowers and Richard Wagner. Klaus Lang's music is not a means to convey extramusical contents, such as emotions, philosophical or religious ideas, political propaganda, advertisement etc. His music is no language used to communicate non-musical content. Music is seen as a free and selfstanding acoustical object. In his work he is not using sound, sound is explored and given the opportunity to unfold its inherent rich beauties. Only when sound is just sound it is percievable as that what it really is: a temporal phenomenon – audible time. Klaus Lang sees time as the genuine material of a composer and at the same time also the fundamental content of music. In his view musical material is time perceived through sound, the object of music is the experience of time through listening. Music is time made audible.
Klaus Lang has received commissions from numerous renowned festivals for new music such as steirischer herbst, Wien Modern, IMD Darmstadt, Eclat Stuttgart, Maerzmusik Berlin, Osterklang Innsbruck, Tage zeitgemäßer Musik Bludenz, Musikmonat Basel, Takefu Festival (Japan), Lucerne Festival and Wittener Tage für neue Kammermusik. He has written music theater works for the Bonn Opera, the Tyrolean Landestheater, the Hebbeltheater Berlin, the Theater Aachen and the Munich Biennale, among others. Ensembles such as Klangforum Wien and Ensemble intercontemporain, the Arditti Quartet, choirs of WDR and SWR and many others have performed works by him.
In addition to his work as a composer, he performs as an organist with old, new and improvised music and has published numerous articles in music journals. Since 2006 he has held a professorship at the University of Music in Graz for composition and is also repeatedly active as a lecturer at impuls and the Darmstadt Summer Courses for New Music, among others.