Festival
26.7.2023, 20.00
three_four_maybe
MUMUTH . György-Ligeti-Saal, Lichtenfelsgasse 14, 8010 Graz
NEKO3
Kalle Hakosalo percussion, performer
Lorenzo Colombo percussion, performer
Fei Nie keys, performer
Marcela Lucatelli The Other Heading (2021)
Simon Løffler e (2014-2017)
Xavier Bonfill three_four_maybe (2020-2021)
Alexander Schubert selected songs from: Angel Death Traps (2021-22)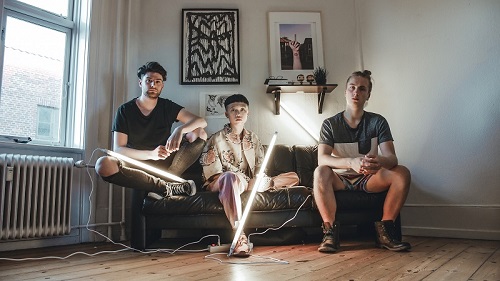 NEKO3 is a Copenhagen-based contemporary music ensemble consisting of pianist Fei Nie and percussionists Lorenzo Colombo and Kalle Hakosalo. The ensemble works to develop a new musical language and repertoire. Located between acoustic and electronic music, NEKO3 develops a story and a concept for each concert, making it a unique experience for the audience. NEKO3 continuously collaborates with composers to commission and premiere new works, focusing on the interplay of images, electronic devices, videos, and light, seeking to integrate music, visual art, installations, and body performance into a conceptual whole. And so also in this program NEKO3 works, in addition to classical instruments, with installative and sculptural set-ups, light and LED panels, text and language, tangent to themes such as linguistic and cultural identity, alienation up to trans-human condition, in which a fusion between the body and technology is progressing further and further.
Since its formation in 2017 NEKO3 has performed at festivals such as Dark Music Days (IS), PlayTime Festival (CH), Kammer Klang (UK), Copenhagen Light Festival (DK), Klang Festival (DK), GAS Festival (SE), Sound of Stockholm (SE) and Spor Festival (DK). Moreover, they have been featured as soloists of the multidisciplinary concerto grosso "Yes for No" by Xavier Bonfill, with the Danish National Symphony Orchestra and the Aarhus Sinfonietta. They have given workshops and presentations at ie. the Royal Danish Academy of Music (DK), Hochschule für Musik und Theater Hamburg (DE) and Kungliga Musikhögskolan (SE). In 2018 the ensemble recorded its first EP with music by Danish composer Jeppe Just Christensen and in 2020 they released their second EP with music by Mads Emil Dreyer. From 2019 the ensemble has been mentored by the renowned contemporary musician Antoine Françoise.
In the coming year the trio will be performing among others at the Unerhörte Musik (DE), Moderne Mandag(DK). Moreover, they will be collaborating with composers like Alexander Schubert, and as well different young Danish and international composers within the frame of their NEKO.Lab micro-workshop initiative.
€ 16 | € 11* | € 6**
* Pupils, students, conscripts/civil servants and unemployed persons with valid identity card
** Music students with valid ID at the box office and children up to 10 years of age
*** Free admission for Hunger auf Kunst & Kultur at the box office from 15 minutes before the start of the concert
Ticket reservation: office@impuls.cc
NEKO3 performs with the kind support of the Creative Europe Programme of the European Union as Young Ensemble in Residence of the EU-funded Ulysses Network and in cooperation with open music, a Graz based concert series for contemporary music, associate partner of the Ulysses Network.
Furthermore we would also like to thank Art Music Denmark and Statens Kunstfond for their kind support.