Festival
25.7.2023, 11.00
BASSticcio
TiP . Theater im Palais, Leonhardstraße 19, 8010 Graz
Anna Koch bass clarinet
Michael Jarrell Assonance II (1989)
Manuela Meier iterate no trace (2015)
Petra Stump-Linshalm MADAME PELE (2021)
David Lang press release (1992)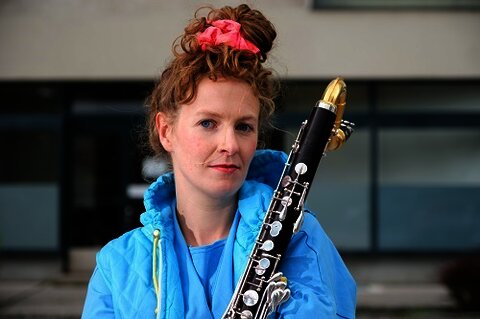 Anna Koch is an Austrian clarinet and bass clarinet player. As a professional musician, she specialises in contemporary music and improvised music. Studies in clarinet performance at the University of Music and Performing Arts Vienna, graduation with honours in 2017. Startstipendium Musik grant 2020 by the Austrian Federal Ministry for Arts and Culture. Premiere of her solo programme BASSticcio in January 2022. Selected artist for NASOM, the New Austrian Sound Of Music 2023/24.
Member of Platypus Ensemble, ensemble reconsil and ensemble N, frequent guest artist with Ensemble Kontrapunkte, Bang on a Can-All Stars, etc.. Collaboration with musicians and composers such as Petra Stump-Linshalm, Heinz-Peter Linshalm, Michael Jarrell, Ig Hennemann, Julia Wolfe, and Bruno Liberda as well as masterclasses with Matthias Schorn, Alexander Neubauer, Fie Schouten, and Harry Sparnaay. Performances as a soloist and chamber musician at festivals like Wien Modern, Bang on a Can (USA), Klangspuren Schwaz, impuls MinuteConcerts Graz, Styriarte, Imago Dei and Expo Shanghai (2010).
€ 13 | € 9* | € 5**
* Pupils, students, conscripts/civil servants and unemployed persons with valid identity card
** Music students with valid ID at the box office and children up to 10 years of age
*** Free admission for Hunger auf Kunst & Kultur at the box office from 15 minutes before the start of the concert
Ticket reservation: office@impuls.cc
Anna Koch is part of the program NASOM (New Austrian Sound of Music), supported by BMEIA.