Festival
25.7.2023, 17.00
strings&noise
TiP . Theater im Palais, Leonhardstraße 19, 8010 Graz
Sophia Goidinger-Koch violin, performer
Barbara Riccabona cello, performer
François Sarhan from SITUATIONS: No. 7 imagination, for 1-4 performers, text, body percussion (2008/2009)
Bernhard Lang GAME 542, for violin and cello (2020)
Carola Bauckholt Doppelbelichtung, for violin, electronics (2016)
François Sarhan from SITUATIONS: No. 6 hope, for 1-4 performers, text, body percussion (2015)
Judith Unterpertinger Zeitenverwesung I. Study for cello (2021)
Mauro Hertig Another, Very Last Time, the Same, for violin, violoncello, 2-channel tape (2023, world premiere)
François Sarhan from SITUATIONS: No. 4 Vice versa, for 1-4 performers, text, body percussion (2008/2009)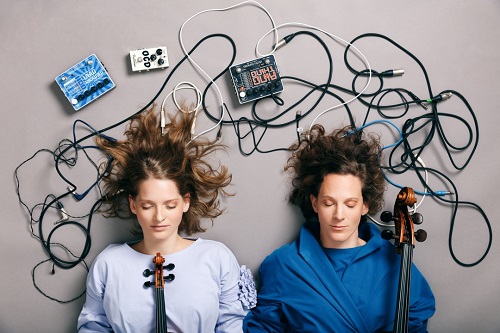 strings&noise has set itself the goal of making new music exciting and stimulating – for both experienced and untrained ears. The focus is on an intensive search for the many sound and noise possibilities of the two string instruments. The two musicians are not afraid to go to the limits of what can be played and to use objects, preparations, voice and body.
String instruments are still often associated with cloying euphony – this prejudice is debunked with great pleasure. Since its founding in 2015, strings&noise has therefore been increasingly involved with pieces that incorporate other media, such as video and electronics, or even performance elements.
Collaboration with composers working in this direction is specifically sought.
From 2020-22 strings&noise was part of the NASOM program of the Ministry of Foreign Affairs.
€ 13 | € 9* | € 5**
* Pupils, students, conscripts/civil servants and unemployed persons with valid identity card
** Music students with valid ID at the box office and children up to 10 years of age
*** Free admission for Hunger auf Kunst & Kultur at the box office from 15 minutes before the start of the concert
Ticket reservation: office@impuls.cc
strings&noise is part of the program NASOM (New Austrian Sound of Music), supported by BMEIA.