Festival
1.8.2023, 13.00
NEKO3
KUG . Brandhof 21 . Aula, Brandhofgasse 21, 8010 Graz
Fei Nie keys, performer
Kalle Hakosalo percussion, performer
Lorenzo Colombo percussion, performer
Presentation of the open call with selected impuls Academy participants John Aulich, Shasha Chen, Severin Dornier, Daiwei Lu, Gioele Onida, Liepa Vozgirdaitė, Ni Zheng
Severin Dornier +++
John Aulich Cuticles
Shasha Chen Respiratory mask ensemble
Daiwei Lu (new work)
Gioele Onida The inner sea
Liepa Vozgirdaitė ▓▒░(°◡°)░▒▓
Ni Zheng The nakedness of our naked laceration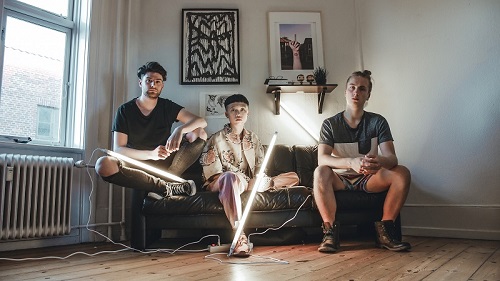 For the impuls Academy and Festival 2023, impuls hosted a Call for the Danish ensemble NEKO3 (see also 26.7.) inviting composers, sound and multimedia artists, performers, individual musicians, actors, dancers, instrument designers, or any other creators regardless of their discipline, to apply for.
NEKO3 hereby consists of three performers, who have a classical training as two percussionists and a pianist, but nowadays they work without regard to medium – ideas come first! Their core repertoire features both electronic music, performance art, cross-genre art (such as installations or sound art) and contemporary classical music. Accordingly the call was open for ideas and styles of almost any kind, the applicant could propose anything from small musical ideas to longer works, as scores or as conceptual thoughts in text format. Rather than finding complete works to be presented in a concert, the ensemble offered to act as a development lab for the applicants' raw ideas, and to get to know the creators as artists and people through working with and collaboratively developing ideas with them.
With this final presentation NEKO3 is now presenting the results of the productive working phase with the selected artists.
€ 13 | € 9* | € 5**
* Pupils, students, conscripts/civil servants and unemployed persons with valid identity card
** Music students with valid ID at the box office and children up to 10 years of age
*** Free admission for Hunger auf Kunst & Kultur at the box office from 15 minutes before the start of the concert
Ticket reservation: office@impuls.cc
NEKO3 performs with the kind support of the Creative Europe Programme of the European Union as Young Ensemble in Residence of the EU-funded Ulysses Network.
Furthermore we would also like to thank Art Music Denmark and Statens Kunstfond for their kind support.