Cantando Admont
Ensemble, Coaches
Elina Viluma-Helling soprano
Helena Sorokina mezzo-soprano
Bernd Lambauer tenor
Ulfried Staber bass
Cordula Bürgi musical direction
Aware of the need to give new impetus to the contemporary creation of vocal music and with the desire to let the rich repertoire of medieval, Renaissance and early Baroque music blossom again, the ensemble Cantando Admont was formed by dedicated singers under the direction of Cordula Bürgi. With enthusiasm and great commitment, the ensemble aims to revive the richness of the historical vocal heritage in contemporary creation. We are firmly convinced that only through profound work on the repertoire of the past can contemporary creation blossom again and be freed from the confines of specialization. This seems to us to promise hope for a new departure, especially today.
Cantando Admont is based in Graz, where it has set itself the goal of establishing a new concert tradition with its own concert talk & solo cantando series. Since its founding, the vocal ensemble has performed at renowned festivals and promoters such as the Salzburg and Bayreuth Festivals, the Deutsche Oper Berlin, Wien Modern, MDI Milano and the Teatro Colón in Buenos Aires, the Konzerthaus Dortmund and other festivals. Among others, concerts will take place in 2022 with the Concertgebouw Orchestra, at the Acht Brücken Festival in Cologne and in Amsterdam. Cantando Admont will also perform at the Musikverein Vienna, at the Resis Festival in Spain, at the Inntaler Klangräume, at the Onassis Center in Athens, at the Munich Biennale and at the Musikprotokoll Graz. An opera production at the Zurich Opera House is planned for 2025.
Regular collaboration with composers such as Beat Furrer, Youghi Pagh-Paan, Klaus Lang, Elisabeth Harnik, Peter Ablinger, Feliz Anne Reyes Macahis, Laure M. Hiendl, Marco Momi and others, as well as ensembles such as Klangforum Wien, Ensemble Kontrapunkte, Ensemble Arxis, Ensemble dissonArt, Ensemble Nikel, Ictus Enemble, etc. is an essential part of Cantando Admont.
Cantando Admont is directed by Cordula Bürgi. Born and raised in Switzerland, she studied violin at the Lucerne Academy of Music and conducting and singing at the Basel Academy of Music. Since her childhood she played in various youth orchestras and chamber music formations. She discovered her enthusiasm for early and new music at an early age. In 2008 she took over the musical direction of the Mädchenkantorei Basel. After continuous development work with the different choir levels, she supervised numerous concerts and theater productions at the Theater Basel. She has also been invited for several other rehearsals, including work at the Berlin State Opera (Beat Furrer's opera Violetter Schnee), the Graz Opera and with the SWR Vokalensemble. In 2014 she moved to Vienna and founded Cantando Admont.
Cantando Admont will be present at impuls from July 25th to August 2nd.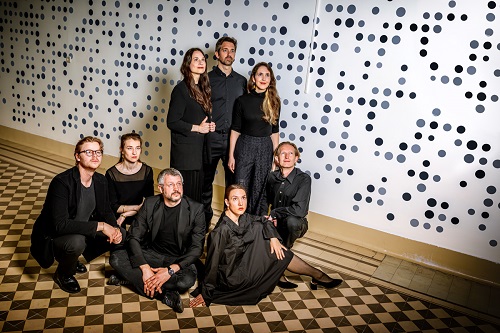 Special Program with
Cantando Admont and IEMA-Ensemble 2022/23 and Vocalists